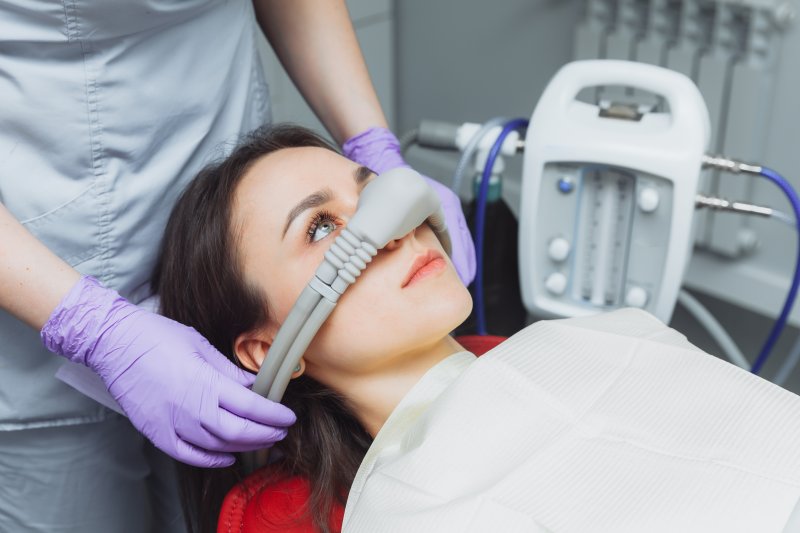 If you're one of the thousands of people who are nervous at the dentist's office, that can put a serious damper on your oral health. Regular dental visits are critically important to getting a good smile, and chronic dental anxiety can make getting that care a little bit difficult.
Thankfully, sedation dentistry can make dental care easy for even the most nervous patient. Nitrous oxide in particular can be remarkably helpful for patients trying to make getting routine dental care as easy as possible. If you're curious whether it could help you, here's some information you may want to know.
What is Nitrous Oxide?
Nitrous oxide, or "laughing gas," is a drug used in dentistry to put patients at ease. As you might have guessed, it's a gas that flows through a mask into the patient's nose. Dentists have quite a few drugs at their disposal, and among them, nitrous oxide tends to be the weakest. It also wears off within minutes of the gas flow stopping.
How Does Nitrous Oxide Feel?
Some people think that sedation numbs pain, but that actually isn't true—that's the job of anesthetics. Instead, sedation can calm patients down and make getting the treatment more pleasant.
Sedation also doesn't put you to sleep. You'll be completely aware of your surroundings during treatment, and you'll be able to respond to your dentist's instructions.
Am I A Good Candidate for Nitrous Oxide?
Some patients may not be a good candidate for sedation for health reasons, but in the case of nitrous oxide, this is exceedingly rare. For the most part, nitrous oxide sedation is an excellent pick for patients who are looking set to undergo a relatively short procedure, and who don't want to deal with any lingering effects.
Nitrous oxide is also safe for people of all ages, including children. If your child has trouble calming down at the dentist's office, they may be a good candidate for that as well.
Ultimately, nitrous oxide is incredibly safe and common—it's a good option for whoever needs it! If you think it could help you get to the dentist more often, then that makes you a good candidate.
About the Author
Dr. Lance Timmerman believes that dentistry is just as much an art as it is a science, and loves being able to bring his creativity to the process of restoring patients' smiles. No matter who he's talking to, he takes the time to make sure they're at ease. Dr. Timmerman received his dental degree from Oral Health and Sciences University, and he has since studied at the world-famous Las Vegas Institute. He's also earned the title of Master from the Academy of General Dentistry.
If you have any questions about nitrous oxide sedation, we can be reached at our website or by phone at (206) 241-5533.